We were able to talk to both of Mike's sisters and his parents.
We were not able to reach my brothers or parents....and will try again tomorrow.
We DID reach all the kids....can you believe it? It was LATE their time....but Bre and the boys were on and we talked until Krista was home from her cleaning job and joined in....all of us around our computers....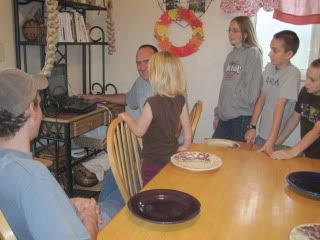 We began talking and it was Thanksgiving here....we ended and it was Thanksgiving in TX....we had dinner, checked back in and they were still talking...so Jared joined them until it was Thanksgiving in OR. ::snort::
Especially amazing is THIS: We told the kids we needed to sign off and eat our meal. Bre said, "Pray first"....and we did. We were able to all pray together on Thanksgiving Day - though we were in OR, TX and Oriase Town, Japan. What a gift.
Choosing Joy!
©2009 D.R.G.

~Coram Deo~
Living all of life before the face of God...