Since our turkey determined we'd have a late lunch/early dinner......we set up our new tree. We left our big tree in the states. We didn't fully realize what Christmas would be like in a Buddhist country. We thought we'd buy real trees for our years here....but they don't sell them on every corner around here. ::snort::
We bought a cheap artificial tree at the BX....it was PRE-LIGHTED....and a breeze to set up.
We couldn't find the Christmas music, but found one CD - Celtic Christmas. We put it on to decorate. Stacia hopped up, danced around with her doll...threw her doll on the ground....and in tears said, "There's just NO ONE to dance with around here!"
Ah - I teared up. Josiah and Jamin are her dancing partners. Josiah danced her around the living room from the time she was 2 weeks old.
Her brothers hopped to.....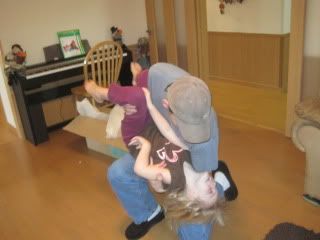 THEN we heard the familiar Skye ring in....and it was JOSIAH. He's never called on HIS computer and we've never been able to reach him. It was VERY late in TX....but he was on at just the right time to talk with Stacia. They had a precious talk.....and then we all joined in.
Choosing Joy!
©2009 D.R.G.

~Coram Deo~
Living all of life before the face of God...