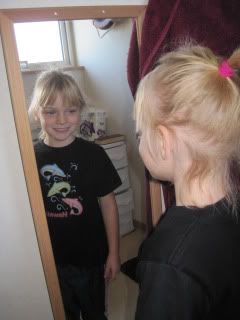 I walked into my room. Stacia was in the bathroom, preening in front of the mirror. She said, "Do I look a mess?" Struck me funny.
I assured her that she did. Her baby-fine hair was falling down and she had chocolate all around her mouth. I told her to wait while I grabbed the camera...she cleaned her mouth. ::snort::
What a blessing to have a 4 year old in middle age. ::snort::
Choosing Joy!
©2009 D.R.G.
~Coram Deo~
Living all of life before the face of God...