THURSDAY -
I woke up with a nagging headache instead of a raging migraine. This is good...
I tried out another gym today - Community. Guess what? The littles drama teacher works there! She is FRIENDLY.....which I wasn't impressed with the staff here earlier in my adventure. Angela answered my questions AND quoted me a better deal. I've decided that's a long enough story to be it's own post. LOL
I attended the monthly Parish Advisory Committee meeting today. My head began to throb during the meeting......lots of transition at the chapel just now. Chaplains deploying, moving, new ones coming in, services changing times, combining.....no wonder I've not seen Mike at all lately. ::snort::
I ran the boys to HoF. Roy and Pattie (y?) came by to pick up canoes for the weekend. I picked up boys, ran up to meet Mike, dropped Jared at Civil Air Patrol, came home and found out Jamin was being called in to work AFTER ALL.....Mike won't be home for a couple more hours.....
I'm home alone with a oh 7 or 8 migraine and don't want to take the big drugs when there are no big kids home. They make me loopy - but I'm starting to enjoy being loopy. ::snort::
Just say no to drugs - blog instead.....
Jared got his first rejection letter from an online magazine today...bummer! BUT I'm proud of him for trying and *I* like his story. (photos taken FIRST thing in the a.m.)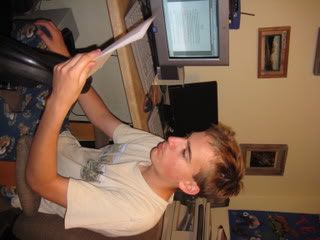 Jamin found out that one of his stories was a winner in a contest...but I can't remember at this point which one....I'll ask him tomorrow.....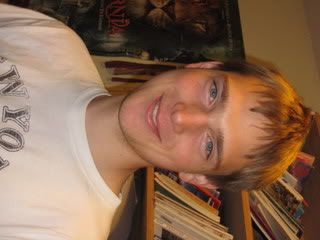 Then he found out that another story was rejected by the same online editor that rejected Jared. I think the man has something against homeschooled youth with German last names. ::snort::
Josiah got his English paper back yesterday. The prof is known for being tough - but he has enjoyed her class. Writing is not his strong point....but he's enjoyed the challenge. She said that two students made A's on their papers. Josiah made an A on his paper on FDR. This dead week - which I suspect is good because he has had to pick up shifts from several others this week at work. Next week is finals and he is DONE with his freshman year of college.....
I took advantage of
Hands and Hearts Subscriber Sale
and ordered my history kits for next year at 15% off. A local friend ordered the Early American kit too, so we were able to get free shipping.