This I have Time For....
I am trying to get May scrapped and then I can have them printed somewhere and feel that I'm current SOMEWHERE! ::snort:: I did discover that the key to saving time with digiscrapping will be to make a "principle" for myself NOT to change albums. I found a new design template for birthdays this a.m. that I thought would be great for Arielle's birthday photos....but she LIKED the one we did yesterday. If I were to start second-guessing designs this would NOT save me any time. ::snort::
Here are some less fussy pages.
I have a great squadron page but haven't asked permission and they are minors.
This page has just Jared and the commader (who is NOT a minor) Yes, he found out Wed that he is May's Cadet of the Month. He also filled all the requirements for Tech but won't be able to pin it on until June.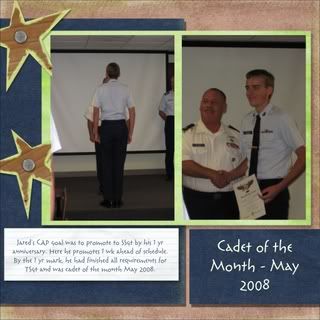 ( On the above I switched from plaids to a plain brown background, removed their title and put in my own, and Jared wanted "med" embellishments)
Here's one of Nolan and Miss Natalie (I used full embellishments but went with brown - a manly unfussy color instead of plaid and stripes)
I continue to research "options" for digital printing - full bleed, color corrected, paper weight, prices. I am still hoping to find a place HERE that will print 12 x 12 prints. If you have more experience than I with printing things out, I'd love any tips you care to share....favorite place to order prints online, favorite options, albums, things to watch out for....