STOP THE PRESSES....SENATOR GOING TO DC TO WORK?
I had thought we were finding our stride. Unfortunately, I believe our stride this year is going to resemble an attempt to sprint through sludge and quick sand. ::snort:: This
may have something to do with the bug I'm fighting.....who knows? Maybe I'll be full of energy in a week or so.
Today, Arielle, Nolan and I headed over to our local Newspaper office. Our homeschool support group had hoped to have enough children for one tour group. We ended up with enough children for four groups. LOL Here are a few shots. I was totally AMAZED at how this field trip has changed from the "ole days" when *I* was in elementary school. No type setting (and really looking at a room of computers is a bit boring), one small room to contain old articles and photos as most are now archived on (again) the big computers, not a lot of reporters running in an out (beause news feeds and computers mean we need fewer real reporters)....but some things never change. The printing room is still impressive. ::snort::
I had a fun discussion with another mom (hi, Yvonne), on one of my more passionate homeschool topics - old fashioned homeschooling. Poor Yvonne has READ my thoughts and wanted to hear MORE. ::snort:: I met a homeschool dad from the early 80's and it was fun to remember.....how far the movement has come!
Anyway - a few photos:
Explaining how to find old photos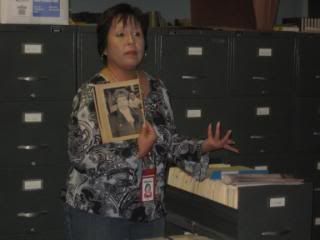 Testing their hands at "throwing papers"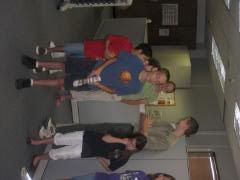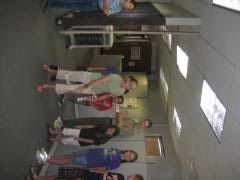 Big rolls of newsprint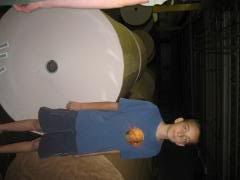 The Printing Press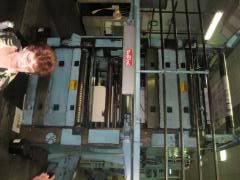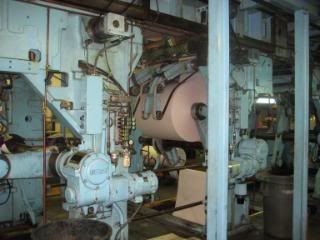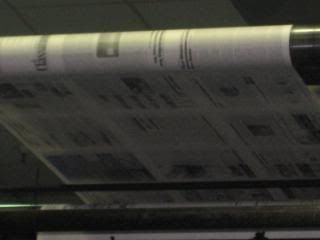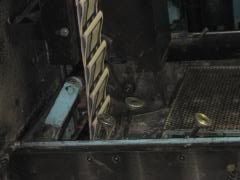 This was REALLY interesting...a pallet of papers in prep for Sunday...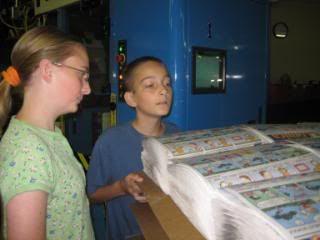 Arielle finally got to be FIRST to read the Sunday Comics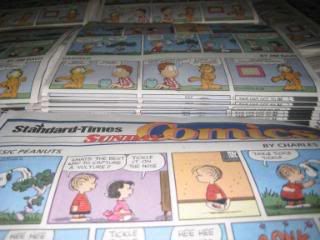 We found it interesting to see pallets with sales flyers for the next 3 weeks.... (Keep your eye on JC Penneys).

We headed home and worked on some history. I fell asleep. I'm simply no good in the afternoon. I need to do the read alouds EARLY and save hands on activities for the afternoon.
Arielle did story hour with the little ones.
We continued our discussion of the process of electing a President. (Deja, we need to talk.)
I cut out several more booklets to speed up the process for Zander. He's interested in his knight and voting books...but he has a limited amount of time each day that his hiney can be in contact with a chair....so I figure I can help by doing much of the cutting.
I listened to Sean Hannity while I cut...and heard that Sen. McCain is going back to DC to ....WORK....go figure. ::snort:: OK....this does interest us as we are studying "campaigns" and um....is he really abdicating the campaign....for how long? A weekend? A week? A month? Will this cause him to gain or loose momentum? Will they turn my gal Sarah loose on the trail? All questions of grand interest for those of us doing a unit study on elections. Have I mentioned the LAST TIME our family did a unit study on elections was 2000? You know - the year we didn't know the results for several weeks and I had told the kids they could stay up until the President was announced. ::snort:: I wonder if we've jinxed this orderly election cycle by determining it was time to do another unit study on elections?
Hmmm...we were all prepared to watch a debate on Friday - appealed to those studying elections AND to those studying formal debate.....I wonder.....Seriously, I need to go do some online news reading as I can't imagine what it means that Sen McCain is "suspending his campaign"....I mean really.....how long? Until the economy is "fixed"? I'm intriqued.
©2008 D.R.G.