As a logical adult, I KNOW that taking two little boys' rock collections to Japan is silly and makes no sort of sense at all.
As a third culture kid (TCK) myself, I know how important it is to have some of your favorite THINGS in a new location. I've been wrestling with and praying about what to do and how to explain to Mike that really it is NOT a Lucille Ball sketch, but we do need to take some rocks with us to Japan.....rocks from AK, from OR, from CA, from TX, from Hobby Lobby.....
Nolan (10) took out a few of his favorites and gave the rest of his collection to his friend Erik. This was with no prompting at all and I think Erik will value the gift for what it is - a part of Nolan's heart.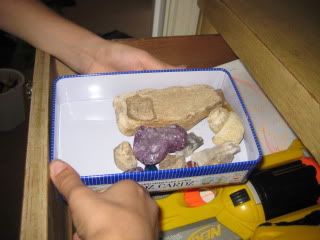 Zander took a few that he didn't care about and got rid of them. Notice the difference in personality and possibly maturity to understand that all can't come.
We got rid of enough household goods that I suspect we can ship some wheat berries and rocks. ::snort:: Right, Mike? I put MY Texas shaped rock, a gift from a young man who was once a young rock collector, into storage. ::snort::
I'm SO thankful Mike told the painters they HAD to wait until next week or not do the job at all. Sooooooo Thankful.
Choosing Joy!
©2009 D.R.G.
~ Coram Deo ~
Living all of life before the face of God...