No, it's not a type-O....that is how the sign spells "snack". There are vending machines EVERYWHERE....in the airports, off base, on base....and we wanted to try one. We are collecting quite a lot of "change" and it seemed like a good way to use some of it up.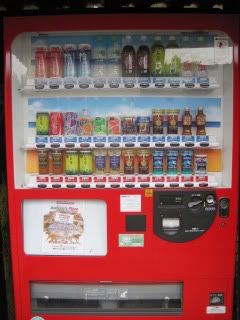 What an array of choices. We'd noted at the airport that liquor is sold this way. I couldn't read most the bottles. I could decipher some....we chose something safe...In honor of Bre and Krista and the Coke fetish....
As we walked away, congratulating ourselves on navigating this new fun, I realized that Y120 is a bit over $1.20. We'd just paid for a can of Coke.....hmmm....
There's a machine near the room that seems to have SOUP in it. I plan to try that today....Jared said he'd try it with me. The others think corn soup from a vending machine is nasty...but then they always have been picky eaters. ::Snort::
Choosing Joy!
©2009 D.R.G.
~ Coram Deo ~
Living all of life before the face of God...