One of the first things we noticed were these delightfully deep tubs in the TLF. They are common to Japan. I'd read up on the country and was expecting deep tubs in off base homes, but was pleasantly surprised to find a deep tub in TLF.
In the homes we've seen, the bathrooms are divided into at least two rooms. There is a room with a toilet and sink.....then there is the shower room.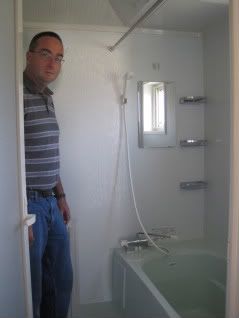 It's hard to see in this photo...but the entire room is tiled with shower board. There is a drain in the floor outside of the tub. The shower hose is for you to take a shower in the room, BEFORE you get into the tub. In homes without shower hoses, there is a small scoop/bucket dipper for the same purpose. Only when you are CLEAN and all soap has been removed do you enter the tub. I think the hook IN the tub is a concession for "American Style" homes. There is also a mirror in our tub?????
From our reading we've learned that the tubs are usually filled with very HOT water. The tubs come with a cover to keep the water warm between baths. In homes with big enough tubs several members of a family will soak at the same time. The purpose for a bath here is to relax, to calm down, to get warm, to be refreshed...showers are to get clean.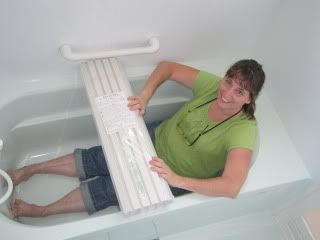 I was thrilled to find that our tub is deep (though a bit short for the taller folks among us) and has a cover.

Choosing Joy!
©2009 D.R.G.

~ Coram Deo ~
Living all of life before the face of God...