Mike and Krista got back to the trailer at 1 a.m.
We met our realtors early. They loved the house. There is currently a 9 month supply of houses on the market in our price range...but we are offering closing, the house is newly painted, newly carpeted etc. The circled up with us and PRAYED for our trip, thanked God for knowing us, prayed that God would send a family to our home who would know and experience the Love that currently resides in the house.....I love our realtors. They also gave the boys directions on how to reach them 24 hours a day.
The boys received an unexpected play date with the Leathermon boys. Thanks Tammy.
The youngers met us at the house at lunch time.
I spent 10 hours on the phone with Verizon....I now have a domain...and POSSIBLY we'll keep our same email addresses when they disconnect our DSL...we shall see. If we disappear, remember the address in the sidebar will work. After 10 hours I had no CONFIDENT address that we'll keep our email address to the trip - BUT the web hosting dept had informed me the rest of the departments don't have a clue how the web works and that since the domain is established and is linking from those verizon addresses it will be fine. I agree that the other departments don't appears to have answers so I'm going to trust him. We'll see tomorrow what happens. LOL
We blessed Jamin as he moves from young male to adult male. This is something we do as a family....these are sweet and personal moments in our family life. I share it here because Mike keeps telling me the blog is a "family history and legacy". We also blessed Cy's apartment when he moved in....we decided to bless it again and send it to the apartment across the way that the boys will be moving in to in 9 days. ::snort::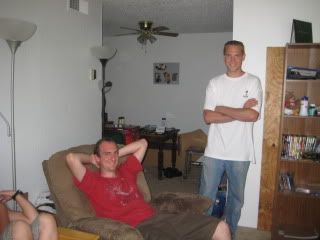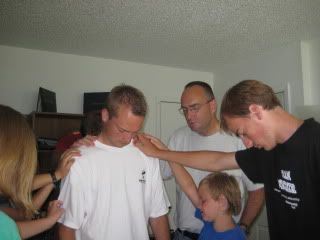 For graduation we kicked Jamin out of a plane, gave him a printer and a mattress.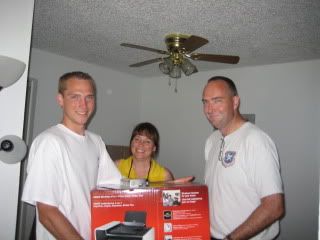 A tradition we began when we moved from Alaska is a farwell balloon release. Four years ago we shared the good and the bad, committed to release the bad and move on. It was meaningful but not quite "right", I thought. I had instigated this tradition. Yesterday, the missing part clicked. I shared about cherish and cling. We discussed the memories and people that we will cherish from San Angelo. We discussed the hard and bad things that have happened here...and we resolved as a family to cherish the memories of this season...but not to cling to the good or the bad...to move on to what God has for us in the next three years.
Each person shared....we didn't use strings this year...so how enviromentally aware we've become.


Josiah decide a good and bad balloon were in order. ::snort::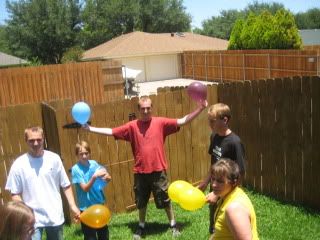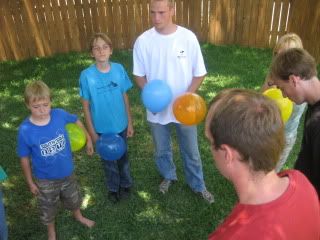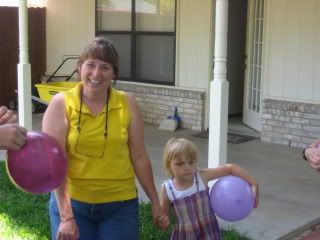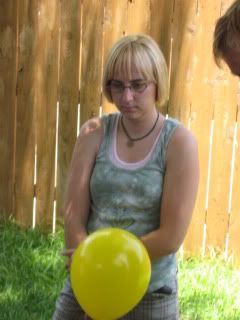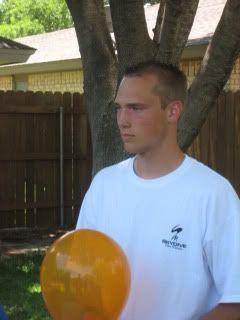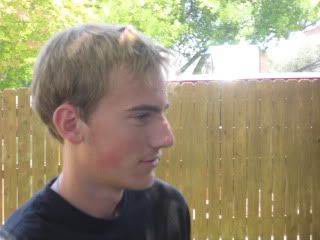 We prayed and released the ballons. What a visual reminder that it's time to let it go and move on....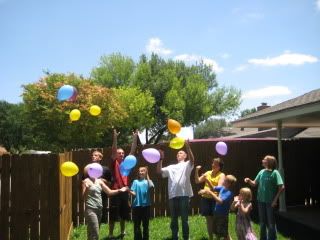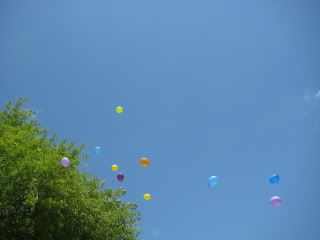 Blessings...Balloons & Trauma?
We made a last stop at Armstrongs. Zander took Mrs. Armstrong flowers. We dropped off another van load of "stuff," gardening and cleaning stuff this time. ::snort:: Mike and Doug joked about how far we hope to make it today.....the battle cry has become "Abilene by Dinner" - about 90 miles away. The joke between Mike and Deja had been that I skipped a retirement dinner and cancelled a cleaning date so I could avoid saying goodbye to Deja. I plead the 5th....however, I did show up to say goodbye. I want that noted, my shoeless friend.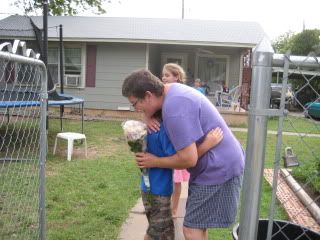 We headed for dinner. A huge storm - tornado like - blew in. We rushed to the lake to get our dog and she was gone. Arielle was heart broken. She had tied her to a tree with water and food so she'd have shade. She didn't mention this to any of us until the storm began. She didn't have a clue the sun would move or that a storm would blow in. They looked all over the grounds, while I cuddled a sobbing, shaking Arielle in a sleeping bag and prayed that our time in San Angelo and our time with our wonder dog wouldn't end this way. A neighbor finally told us that the camp host had Bea.
Mike, Jared and Krista headed back to the house to "finish up".
The younger ones and I waited for Bea's return. She was cold and shivering.....and seemed to be saying, "How COULD you leave me in a storm and now you're going to leave me in ID." Her eyes are rather expressive. We dried her, cuddled her, rubbed her and she slept well all night.

It was a full day. I'm doing a couple of loads of laundry this a.m. the rest of the family will be waking up shortly, our men are meeting us here to get the trailer ready to go....and we WILL leave town today....not sure how far we will get....stay tuned.
Choosing Joy!
©2009 D.R.G.

~ Coram Deo ~
Living all of life before the face of God...