We've toyed with various methods of "family devotions" or family circle through the years. It's been hard to find something with depth which fits the age ranges of children we have. It's also a passion we have to make sure our children know how to study the Bible, to find and verify truth. We've overwhelmed our kids; we've underwhelmed our kids. We've not been impressed with many of the sugar coated devotionals written for the young, proof texting gives Michael and me hives, and many of the resources currently available for Bible study don't teach a person to dig out truth for themselves (adult Bible studies included). Many of the more inductive studies are too far above a young child's ability and/or will bore one to tears. Our lofty ideals have moved us to inaction more often than I'd care to publicly admit.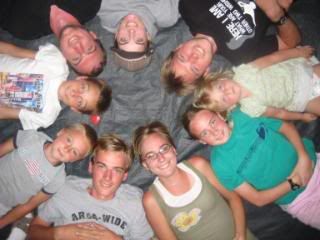 2008 - Westcliffe, CO - all 9 Gherkins
We LOVE to
inductively
work through a book of the Bible in a small group. We've tried that with varying measures of success in family circle - the ultimate small group. We realized a chapter a night was too much for Stacia's attention span...and to study well. We slowed down - read, observe, interpret, apply....lots of discussing. The pros of this is it allows us to tailor our discussion to the ages in our family circle. Michael, our resident theologian, and myself (Precept trained Bible study leader for over 20 years) are fairly familiar with the Bible and have been able to lead without much hubbub. It's been better than the prepared things we've tried. It's getting the kids into the Word for answers instead of studying what another tells them the Word says. It was a bit haphazard and we wanted more structure.
We started a study of the Parables of Jesus this year. We thought it would take about 9 weeks. Our original thought was to use this time to research to find something published which met our needs. Um.....we added things in, spent a bit longer here and there and certainly didn't make it six nights a week. Have you noticed how you must CONTEND for evenings at home these days? There is nothing "magical" about evenings - other than its the time of day we're all semi-conscious and at home together (if we contend for the evenings). I feel it important to do this as a family, and not simply add it to school.
We used
this chart
. We began by discussing how to accurately interpret a parable. This was info Michael and I had at our fingertips from Bible school and Precept training...but it's readily available online. Simply put, we discussed how one can get "way off" if they try to apply each element of a parable, or come up with new doctrines based on each element of a parable. In each parable we looked for the main point Jesus was making. We took a night to discuss WHY Jesus taught in parables.
Our format was simple: read a parable, discover the main truth being presented, discuss that truth and what the original audience may have thought Jesus meant, determine what walking out that truth in OUR lives would look like. A few notes about the chart: I haven't read the site - I was simply looking for an easy list as we began. I have NO IDEA of their doctrinal bent. We didn't always think they'd started and ended the reading in logical spots (anyone who has been in Bible study with us will not be shocked at that). Context is king and we took time to develop the context of each parable....read before and after the text.
This worked. It wasn't too much for our younger ones and it was meaningful for young adults and adults. The end of the list of Jesus' parables drew near and we'd still not researched nor found the published format which would work for us.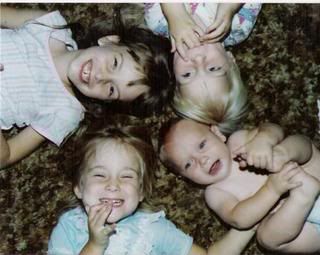 1991 - Hardin, MT Bre, Krista, Cy, Jamin
We've decided to continue our format. We are spending the next eight weeks (at least) looking at the "I Am" sayings of Jesus from the gospel of John. I will flesh it out a bit more than we did with parables. Our goal is to spend a week on each saying. Michael will help me with background material and resources, but he's busy at work so much of the prep will fall to me. We will continue with our inductive reasoning of the passage, we'll discuss what it meant to the audience and what it means to us, I'll give the kids homework on some nights to bring back to the following family circle, we'll add in activities, video clips, games.... The older kids will be assigned parts of the study to facilitate - this teaches them how to dig in with the purpose to share. We're slowing the pace as we believe these sayings will introduce Jesus to our children in a meaningful way - and we don't want to rush that introduction. It's always exciting for mature believers to stop and take a fresh look at Jesus as well. Nothing beats multi-generational small groups for fresh discussions.
If you happen to have resources which you think would go along with our study, please share them! This won't be perfect, but it's the next step in our family circle. Here's the working out line....I'm currently finishing week one and looking ahead to ideas for activities, videos etc for Week 2 and following weeks - and studying cross references etc. Again - I'd love your input. I'm sure there are published studies out there that may do the same thing....but this is working well for us at this point. BTW I realized there are seven signs in John which point to the seven I am sayings.....we'll fill our time.
Week 1 - I Am
- Main point - Jesus introduces God in the flesh to the crowds
Purpose of Introductions
Kids present list of I Am statements about themselves
Look at the audience
I AM in the Old Testament
I AM in the New Testament
* I would like to have the kids do a scavenger hunt (mainly for fun) with I AM statements which need a signature..... I AM a nurse; I AM a Mom; I AM a native Californian.....but we are wondering if this activity is safe in a civilian community in CA? I know we did it on base, in a small Texan town? Opinions?
Week 2 - I am the bread of life
Week 3 - I am the light of the world
Week 4 - I am the door/gate
Week 5 - I am the good shepherd
Week 6 - I am the resurrection and the life
Week 7 - I am the way the truth and the life
Week 8 - I am the true vine
We may throw in a couple of other sayings I am King (John 18); I am the Alpha and Omega (Rev 1)...
I'm thinking a unit on How to Study the Bible may follow this but we have eight to ten weeks to contemplate the next phase.
Seriously, I need to go study I AM and not blog any more this a.m.
Choosing Joy!
©2013 D.R.G.
~Coram Deo~
Living all of life before the face of God...