Jesus' Stocking
During a rough Christmas Season last year (Mike was gone from Sept 5 - Mid March), Debbie gave me
this
stocking ornament. She said she thought of me when she saw it in the store. I immediately KNEW I wanted to create a new family tradition based on this idea. I wanted to find a Christmas stocking for Jesus.
I had a year to look. I found one on sale yesterday. (OK - so really Christmas Stockings aren't AROUND during the year, I didn't just procrastinate. ) I love the stocking. It didn't have a name and so Arielle and I looked all over town for ideas on how to make a name for the stocking.
Finally, at the Christian Bookstore (duh) we saw some of these rhinestone words - and here you have it.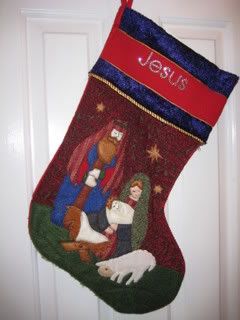 I plan to center a family devotion or morning circle time around the theme of Christ's Character. We can go through His names, talk about Phil 2, I Cor 13, maybe use the
Adorenaments
....and then throughout the rest of the Advent season we'll catch each other being Christlike. When we do, we'll write the instance down on a slip of paper and put it in the stocking.
I'm not sure when Mike will want to do it - either Christmas Eve or maybe Christmas Morning, or maybe a different time (New Years?) we'll read all the gifts to Jesus that are in the stocking. I really like this idea (still haven't taken the Thankful Tree down - but I like this idea too.)