Countdown Candle
(This would be a good time to mention that I linked a few things some of us have written about Christmas in the sidebar this weekend. I'll link more. If you've heard why we celebrate Christmas before, you don't have to read it again. If you wonder - you can check. etc They are under the little "Jesus is the Reason" sign to the right).
This is one of our fun family traditions. I look for a special candle each year. The very first year we used some really intricately carved candles that my Mother in Law had given me. I loved them. Some years all we can afford is a plain 9 inch taper.
We wanted to find something SPECIAL this year. Arielle and I found this one at Hobby Lobby for 50% off.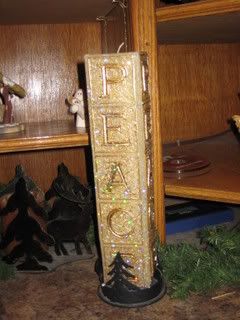 The photo doesn't do it justice. It is sort of glittery and the young ones love it. We'll make 25 marks on this candle. We'll burn a "mark a night" during our family circle. This will be a visual aid for the little ones. IF I count right the candle will burn out on Christmas Eve. Often we have to burn it several hours on the 23rd to make this work. ::snort:: I figure it will be easy to mark this one as there are 5 squares on it with the letters P E A C E. I may let Mike mark it off. ::snort::