Are you up for another family tradition? We started a few new ones this year but this is an old tradition. I wish we'd begun this one YEARS and YEARS ago, but we started it in 2000. We've been doing it long enough now that our tablecloth is starting to look respectable.
Very simply, I bought the cheapest plain colored cloth I could fine. It WAS cheap - I probably should have bought better quality and splurged for a color....but then again it speaks of where we were when the tradition began. ::snort:: We have all our guests for Thanksgiving Dinner sign the tablecloth. BreAnne and Krista embroidered the names after the dinner for years. This worked well when they were still at home. Arielle pulled it out last night and we realized that she's not finished more than 2 names from 2006's celebration. She took this chore over. She wanted to do it because it had been the girls' job. Her stitching is MUCH nicer than mine, in fact I have no clue how to embroider or cross stitch...but I'm learning this year. ::snort:: We have 3 weeks to get all the names from last year done.
Oh yes, an important point to consider is how you will classify your names/years. The girls and I decided to pick one COLOR each year. We stitch the year and our location in the color and then stitch all names of visitors that year in that color. This works. Mike mentioned he'd like it better if we had areas sectioned off and had ALL the names from that year in that one box. Can you tell that he's more sequentially/organizationally gifted than I?
This is a fun tradition. We can watch the children's writing from year to year. We can track when a new family member entered our family. We can remember various friends fondly each year as we spread the cloth. I WISH we'd begun this when the kids were little...and Grams, Uncle Bill, and Mike's folks shared those holidays with us.....BUT I'm glad we began when we did.
It HAS become apparent that I have some children that will want this cloth when I'm finished setting Holiday tables. Because there are 9 children and I have one cloth, I've begun to think of other Holidays that need a special tablecloth. I have purchased a light gold cloth and will start a Christmas Cloth this year. I have NO IDEA how we'll get all the names stitched as well as a Thanksgiving cloth....makes me cringe to think of it....but we're going to give it a shot. 9 Holidays - Hmmmm.....
Jared and Arielle display our cloth - which needs laundering badly. The names will wash off, so we can't wash it until we are done stitching....oh the pressure!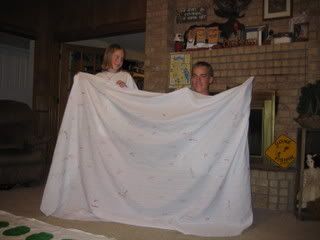 Here's a shot of Arielle's signature in 2002 when she was 5 years old - it's HER first signature as the girls had signed for in earlier years.
Here's Arielle's signature from 2005 when she was 8 years old.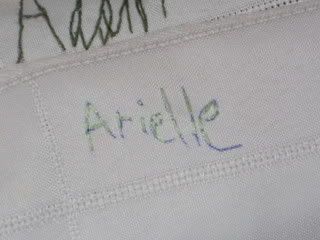 For the next few weeks Arielle and I will be sitting in the recliner and stitching names in all our spare moments.