Let the Mother's Day Celebrations Begin....
Look what I got in the mail today from my grown up Girl Childs.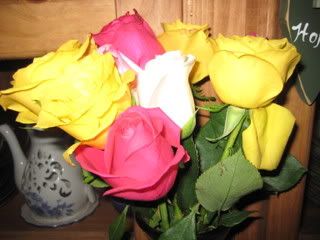 One dozen mutli-colored roses...that had to be thought of, planned out, ordered on time and paid for. It made my day. I also got a sweet card in the mail yesterday from them about adult daughters and mothers. Please understand it wasn't the gift...though I do love flowers....but it was the relationship that the gift signified.
I had been a bit blue when I realized Mike would be preaching in 3 services on Sunday and we aren't going to be able to do a nice dinner or have a leisurely family day (and 2 of the kids are far away)....but really Mother's Day is about relationships - and in that I'm very, very blessed. I hear from the kids regularly, they serve the Lord, they still miss Mike and I, the older ones still at home are respectful (as are the ones out of the home ::snort::) but my point is that really it's not about gifts, or a nice dinner....but relationships.
The celebration has begun.