Complete Security
Who wouldn't desire complete security? OP SEC (Operation Security) is something military members and spouses strive for. It's no wonder this verse leapt at me this a.m.
"He who walks in integrity walks securely, he who perverts His ways will be found out." Pr 10:9
To walk uprightly or in integrity is to walk in wholeness and completeness. It encompasses moral uprightness - honesty. It's the state of being in an unimpaired, perfect (mature) condition.
I strive for a whole and integrated life. I want the various parts of my life to ADD UP. When I walk in honesty I have the great freedom and ease of knowing that my progress will be unimpaired. When I do NOT walk in integrity in each part of my life, things get "off balanced", "off kilter"....think one square tire with 3 round tires. I may still arrive at my destination but I'll be limping along. I may have a blow out and suffer harm.
Security simply put is a calm assurance or confidence.
As I walk in obedience in each part of my life, my life will become one of integrity; whole and complete. That will result in a calm assurance and confidence because of God's gracious work in my life. As I pervert God's standard in any area of my life this will become apparent to those around me. Regardless of what we believe, our walk is on display to others.
I long and pray for wholeness, uprightness, integrity in each and every element of my life: marriage, parenting, schooling, health, ministry.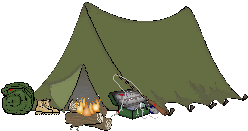 ©2008 D.R.G.