Surprise!
My routine got thrown off today in a rather delightful way. I knew that Central Region of PWOC was having Leadership Weekend in July. This is an event for all the "exec board" positions - a retreat/workshop/seminar if you will. I knew that as a President/Financial/Spirital Life chair I was welcome to attend. I have never attended one, but I have no new baby this year, I'm not pregant, Mike's not deployed and can stay home with the children...it seemed like a good year to go ahead and do some of these PWOC things. I decided to attend when I heard of it.
A few months back, I volunteered to help get info for local installations on to the national website. I did not realize (because I was not paying close attention?) that this was a board position. I thought I was simply "helping out". At Traveling Training, I was told that I could attend Fall Focus and the region would pay. What a thoughtful region - then I asked why and discovered I was on the board.
STILL I didn't make the connection and began to budget a trip to Leadership Weekend in July. Today I got a call from a new phone/internet friend, who will become a real life friend in July, asking if we could arrange our flights so that we could meet in Dallas and fly the rest of the way together. Imagine my surprise when I found out the region will buy my air ticket to ::drum roll:: Kansas City, MO. It will be a full weekend. I'm excited.
THEN Mike has a sort of strange schedule going the next few days. He was given today and tomorrow off (except he has chapel things to do both days) to go off in the trailer and continue to study for ACSC (I honestly don't know what this means as I shared previously - Air College - Staff College maybe?). He also has the weekend to study - but has a dinner on Saturday night and service on Sunday. Then he'll work Monday and go out again Tues and Wed to study. I hope it works. The kids were excited to see the trailer and not so excited to see that Dad was going off alone again. ::snort::
Another out-of-the-ordinary-routine event today involved two - well - delightful women, Rosie and Hollie. They came over to the house and I showed them how to compile their United orders. I am enjoying the opportunity to visit with others through co-op "stuff".
Doug (Deja's husband) dropped by. Since he and Mike were both here, and since DEJA started this whole pool thing ::snort::, the men went out and inspected our leaning pool. The general consensus is we'll keep enjoying it and see what happens.
This photo is solely for the purpose of showing Doug and Deja that "WE have astro turf!" ::snort::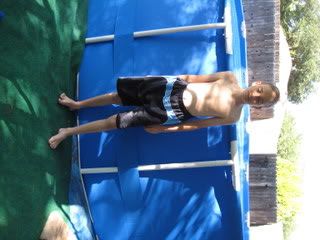 This is my latest attempt to deal with the muddy back yard we have....I considered sand, Mike suggested astro turf...much nicer than mud.
THIS photo is to illustrate when I say we have a small yard and that this bigger-than-expected pool takes up our whole yard....
it does. This is the edge of our patio....the near fence is our back fence. ::snort::
Now, I'm going to do a quick couple of scrapbook pages from the past two days. Since the older boys are at work, Jared is at CAP, the youngers are in bed, Mike isn't home tonight.....I think I'll pull out the traditional scrapbooks and work on those naked albums a bit more.