THIS DAY
I took three children to the doctors today. Of course, they couldn't be seen TOGETHER....though on the last appointment I asked about MY ears. Mine don't hurt. BUT for months - probably more than a year - they've had pressure behind them. They always need to be popped. It's gotten noticably bad as Mike mentions there is nothing wrong with his voice, the volume on the radio, the children's voice but my hearing is going. WELL NOW. I was QUITE sure that I wasn't losing my hearing...but as I watched all the kids be examined today I asked the doc about my ears. I explained that I don't have a fever. I don't have pain. I've had pressure for months and my ears always need to be popped but never quite clear.
The man too PITY on me! He said, "Since you are here" and grabbed the otoscope. I had been told over a year ago at this time that everyone here develops new allergies and to take decongestant. I told the doc that that is probably what it was but that I've had it since this time last year. Turns out that I have lots of fluid behind my ear. Lots. He said that there is no way decongestants will help. He also said that this would explain my loss of hearing. I have meds too.
FOUR unexpected doctor appointments. My PLAN was to stay home and get some things caught up around here, play with kids....and I need to do a girls date with Arielle SOON.....
I also want to take some prints in locally to be printed. I don't know WHY but on Friday I decided this Elmendorf PWOC album needed doing...and now I simply need to print out 19 layouts.
While sitting in waiting room today I decided to redo two of the layouts I did yesterday - because I wanted to make give them a tad bit more zing, now that I discovered how late last night. I did that and Arielle and I are heading to the Scrapbook Store....then we'll crash tonight and plan the rest of week to be what we wanted to do the last two days. ::snort::
I'm not sure if you can see the big difference online...but in life it's noticeable.
Original layout - notice that CM shadows the little dotty elements...
I added shadows around the photos - as they would stand out in a real album. I think it makes the page look more 3D and less "flat".....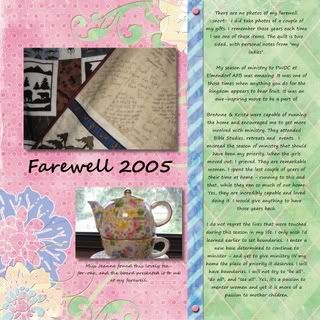 Now.....off we go again. Oh yeah, I had to fill up my van. $108.68. YIKES! But in ALASKA CNN reports gas at $4.50 a gal - could it be?