PAID Author in the House
About a week ago the wife of Jamin's boss gave him the phone number of the editor of the local paper. She is big time into civic events and knows everyone. She told him not to tell Tim O - the boss - that she'd given him the number but she knew he was serious about writing. LOL Jamin called the editor and the editor passed his name to the city editor.
Jamin interviewed today and will be writing on community and church events. He'll have a blurb in the paper tomorrow and then an article on Sunday. He pitched the idea of covering the CAP rocketry event on Saturday. (Um.... JARED is organizing that. ::snort::) They'll pay him $35 a story at this point. They told him that would go up as his work needs less editing. He plans to juggle his SR year, college courses from Taylor University (great writing program), Chick Fil A, and this new job. Yes, he's the one that wanted to do 28 credits last year. BUT we've all learned to sit back and see how it goes....we can flex.

I told Jamin to wait until I got inside so I could take a photo of him telling Mike the news.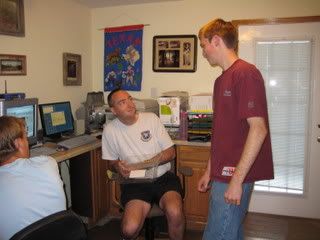 Unstaged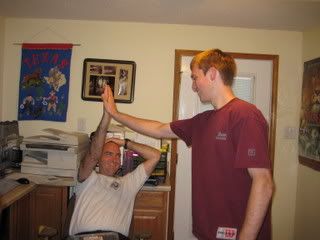 Staged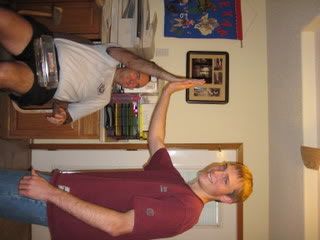 Jamin writes his first PAID blurb for the newspaper as others "hover".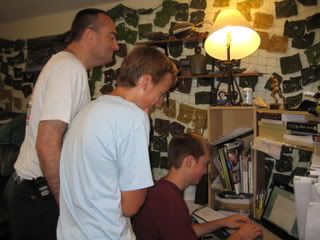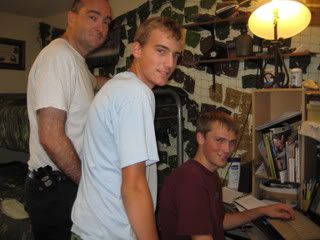 We're proud of Jamin. I'm thrilled and amused at how it all worked out for him. The boys REALLY didn't want to do fast food when they began to look for work. We counseled them that a first job would teach them valuable skills (beyond grilling chicken) and that they'd be able to use the recommendation for future opportunities. Josiah confirmed he's a business owner at heart....Jamin was given a lead through a relationship built over a year that turned into a concrete writing lead.
Motto of the story: Don't thumb your nose at a Chick Fil A job! ::snort:: No, seriously...God knows our hearts and directs our paths.
©2008 D.R.G.