A FULL DAY OF SCHOOL
We did it! We got a full Monday of school in.
Arielle is doing great with her new-found freedom. She's already read a whole week of lit for her level. THEN she looked at the alternate resources and read a book that they had listed to take 3 weeks - The Lantern Bearers. I gave her new more options that are each to take 3 weeks....maybe it will keep her busy this week.
Jared is zipping away as a Freshman. He's got a FULL schedule, but I think its doable. He is still working on it - but Mondays are always his long day. He plans it that way so that Thursday is easy (House of Faith, Civil Air Patrol) and Friday is off so he can help me with Produce.
Jamin has been busy researching CLEP tests,
signing up for courses
at Taylor University, and researching the ACT/SAT dates etc. He's currently working 30 hours a week. I'm not sure we're going to allow that to continue. He HAS the credits he needs to graduate and he's saving up for college and a car....that's all good.....but we want him home to spend time with us too. LOL
Nolan had speech today. I laughed when they told me he can do all the things I TOLD THEM HE COULD DO LAST YEAR but they said he needed to learn. Near as I can tell he has to work on R in the final position and sometimes the TH sound..... I am certainly thinking this will be the LAST year of speech. We had been told he'd been in a group. They have doing one on one with the therapist. I'm not sure why this was so needed. LOL
Zander sat with us for all our school. He even did his own phonics and math. I planned to use Sing, Spell, Read & Write with Zander. At this point my standby curriculum suppliers don't sell just the workbooks....and I don't plan on spending $375 for a kit that I've owned for 11 years. LOL
The younger 3 are all doing Apologia's
"Zoology 2: Swimming Creatures of the Fifth Day".
Arielle is doing the reading on her own. I'm reading/narrating the material to Nolan and Zander. We'll do the experiments together. My kids love this series. I need to go get the extra notebook pages etc....maybe we'll do a lapbook....maybe just the experiments. ::snort::
Today they worked on the start of a year-long project - their ocean boxes. For the life of me I could NOT find paint brushes. They used sponges - which seemed appropriate.....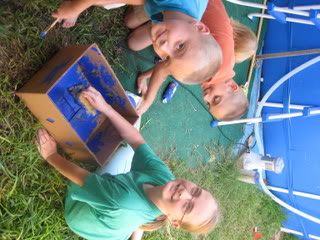 Zander is a hands on type of guy!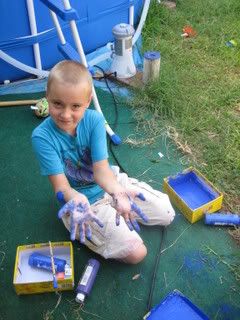 Arielle & Nolan are going to share a big ocean box (Zander will make his own).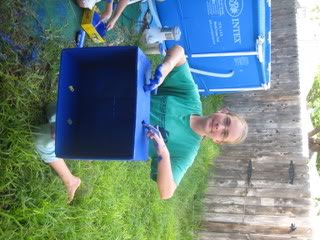 We finished school at 4:50. NOW we need to tackle the rest of that calendar, but I believe God is giving me some ideas to reach our goals without spending the year on the road. LOL
©2008 D.R.G.