MONDAY
I made it to the gym AND we got a full day of school done (see following post). LOL
Tomorrow we begin our Precept study of
Kinsman/Redeemer
. I took notes with me to the gym today. I took notes with me to Speech Therapy today. I think it will be fine....but I like to "feel" much more prepared by Monday night. ::snort:: Yes, I know that God gives you words to speak....however, I take very seriously the priveledge to teach God's word and I work hard to be sure that I'm prepared and prayed up. I know some HATE Precept....but I have to tell you that I've not found material that is as good at teaching one to use the tools of the Inductive Study Method....they take you right into the Word...no bells and whistles....but WOW does God always meet me when I'm in the midst of one of these studies. BTW I don't make my ladies do all the marking or charts if they don't want to.....and I don't spend the entire class time with my back to them. ::snort:: We have FUN!
I have calls in to
TOG
and
NARHS
. The TOG issue is resloved. The NARHS issue will be tomorrow, I'm sure.
Our family way for the day is "We choose to be joyful, even when we feel like complaining." I centered our family circle this a.m. around the "way". It was timely. I gave the kids permission (as always) to quote the way to each other and to ME.....or to simply say "choose joy". LOL
The kids swam in between thunder storms.
Mike came home, changed and went out again for a dinner he needed to be at. Mike passed his LAST ACSC test today. YES, yes, YES!!!! That time stealer is gone.
After dinner the kids and I played charades.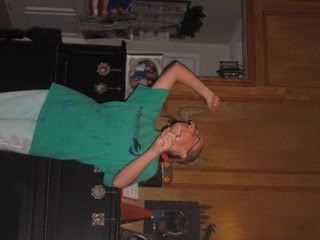 Shelob



Mary and Jesus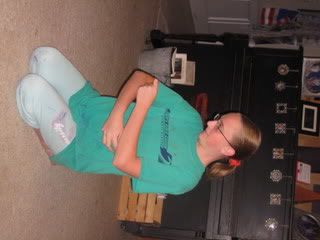 Young man that fell out the window during Paul's sermon



Serpent tempting Eve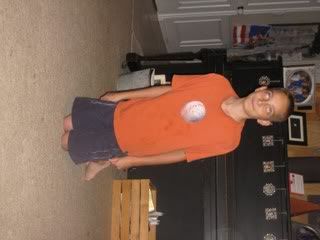 Frog



Moses Parting the Water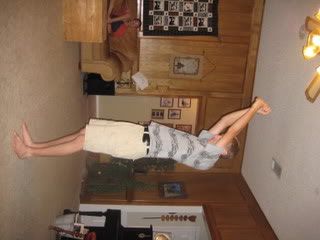 Mike got home as we were playing "Big Doggie". He joined us. This is a great game for eye hand coordination - which evidently is an area we need to work on. LOL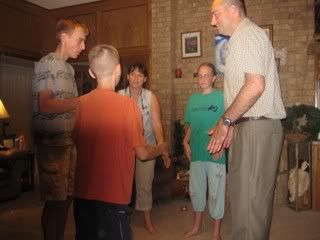 We re-worked our schedule. I had us SCHEDULED to be out of our home EVERY day of the week. That will not work. We've got it down to 2 - 3 days a week. This will be better in the long run - though we'll miss out on some great opportunities. I'll have to write about that later. It's 9:2o and I need to get up an hour earlier now that school has started so I can do the gym before school.
P.S. Yes, I DO document every movement around here.....but that's because at the heart of Choosing Joy is our grown up babies and family who live far away. They NEED to know how the kids' change every single day. ::snort::
©2008 D.R.G.