Christmas Tree Part 2
After my desperate plea for prayers yesterday, many assumed that I did not KNOW that you start at the TOP of a tree when putting on lights. I did. I checked the lights before I began and they lit. I plugged the tree in and only the bottom ones lit. LOL
When Mike was done outside he came in with a little "light checker" and figured it out.
Another tradition we have is buying an photo ornament for each child, each year. WELL....Mom buys them an ornament in keeping with their interests or hobbies each year too. Those are so they will have them when they set up house. I some how got mixed up and offered Josiah all his photo ornaments this year. It made me sad. He said I could keep them another year. THEN I REMEMBERED...the photo ornaments are MINE to keep as long as I like. The other ornaments are theirs now. Josiah will take all his ornaments to his apartment as soon as he has time to pick them up.
This year we decorated solely with photo ornaments again. We'll put this years' new ornaments on as well. Arielle and I took the time to note each year that was missing for each person. Surprisingly, we discovered that there were years when NO ONE had anything.....1997 - the year Arielle was 3 months old, 2000 - the year I miscarried on 1 December, 2005 - the year that Stacia was 4 months old...and the year Mike deployed. We are debating if I should "recapture" those years or let the absence of tradition speak. ::snort::
Here are a few shots of the tree. I LOVE to sit in the still and remember all the years these photos represent. It spurs me on to stay engaged with the younger ones.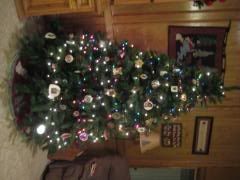 Bre at 18 and Krista at 4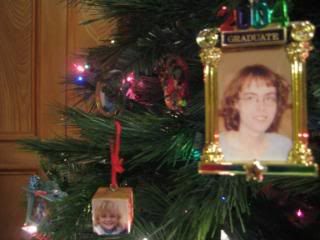 Arielle at 3 months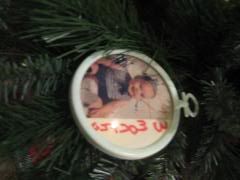 Krista 2 - Bre 4, Arielle 3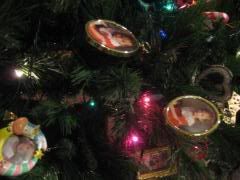 A special friend sent me this ornament in 2000. She knew I was struggling. She sent this ornament as she knew that Christmas would always remind me of our loss in 2000. It's a simple clear bulb and filled with shimmering tinsel. She said to hang it as I chose, if it would help me, to remember - when all others had forgotten. It helps. I always find a moment, when I'm alone, to hang this ornament. It has come to remind me of the 8 babies we've not held, and of beloved family members who are waiting in heaven...my grams, my Uncle Bill, my Aunt Gin and this year my Aunt Clara...it's fitting it hangs on our "family tree".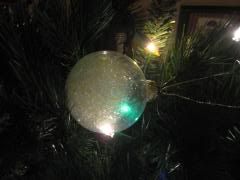 We choose to top our tree with a crown of thorns. This is simply a way to remind us that this season is about the gift He brought and about his ultimate Advent in the future.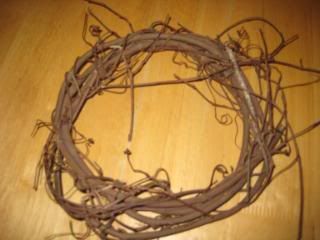 Each year we let the youngest child, who is capable, top the tree. This is the first year that Stacia had this job.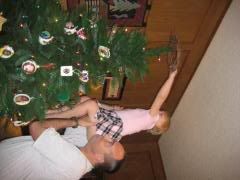 She was thrilled with herself.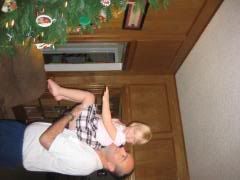 And expected everyone else to be just as thrilled.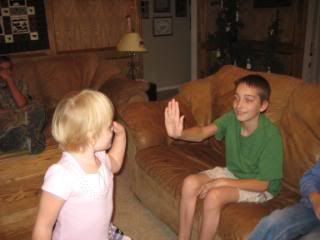 ©2008 D.R.G.