Between Heaven and Earth
It all started with a girl named Mel (who works at Chick Fil A). Mel decided she wanted to go sky diving. She told her boyfriend. Casey sent a text message to Josiah, which he received just as he got into bed.
"Wanna go skydiving in January?"
Cy responded, "Sure". Anything seems like a good idea at mid-night I guess. ::snort::
Today was the day. They all drove to San Marcos. They received instruction. They were harnessed to an instructor. A camera man jumped out with each of them. Josiah has 116 photos and a dvd. . . and an experience he'll not soon forget. Just as they were boarding a plane someone came down and landed in the pool. ::snort::
Notice the man to the right with the camera duct taped to his head - there was only one instructor tall enough to jump with Josiah - this young lady.

Casey on the right, Josiah behind

I can't believe I'm about to do this! He was the first one out of his group.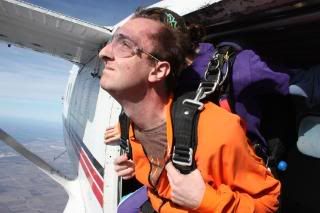 Bohonkus' in space
This isn't so bad!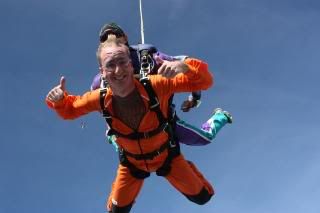 ::snort:: The Old Man look
Can't get away from those Longhorn fans
Land
I can never again use my famous line, "If all your friends jump off a cliff, would you?" Josiah has proven, given the proper thrill factor and circumstances, that he just MIGHT. AND he'd be the first one over the cliff! ::snort:: (OK - for those who don't know Josiah - he's very level headed and wouldn't follow his friends off a cliff.....he'd lead.)
Choosing Joy!
©2009 D.R.G.