When you have these two?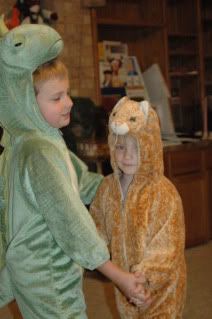 I washed walls today. We did school. We are working on some fun lapbooks. We are reading Dangerous Journey and the kids are all enjoying it. Zander even asks me to read more chapters...this is good.
I talked with the Speech Pathologist at the school where Nolan receives therapy. She has decided to try to rush an ARD through the system. Nolan will be tested - then she, the therapist, the district supervisor and myself will meet. She anticipates all agreeing to the carry over plan that the therapist and I have put in place. This means that Nolan will finally be released from speech. Long time blog readers will remember that W TX Rehab had released him and the school refused to sign off on it last year. I'm thrilled at this possibility. He's worked hard. NOW the question will be if we turn in form 2000897857083048 to the Air Force with the "currently receiving special ed" box checked....or wait two weeks so she can fill it out "has no need of special ed". We are in the process of getting medical, educational and dental releases so we can go to Japan. They will flag Nolan's when they see the box as marked today...but that is the truth as of today. BUT if we wait two weeks to put it in that makes orders (and scheduling tickets, packers, listing our house etc) two more weeks down the line. I suspect we'll turn it in, they'll ask for documentation and by then we'll have the release from the school district.
The kids and I celebrated with big smiles and cheers. Yes, something else may come up...but as far as WE could tell this was the only thing that might disqualify us for an overseas assignment.
The kids wanted to hit the Japan books with renewed vigor this afternoon/evening. LOL
Choosing Joy!
©2009 D.R.G.