Beatrix Jamima Puddleduck Goecker entered our lives during the older 4 children's Beatrix Potter phase. ::grin:: In fact, we've had her just a few months shorter than we've had Jared (15 years).
Josiah rescued Bea from the pound. We were told she was NOT a good fit for our family. She had broken bones and had been abused. We wanted to try. She was nervous at first, but with all the attention and love she received she settled down and became a part of our family.
During those early years in Hardin, MT, she was almost like Nana in Peter Pan. She would frolic with the children in the backyard and raise a RUCKUS if any of them went near the gate. She hadn't done that in recent years.....but amused us all as she did the same to Zander and Stacia the last few days of camping.
Beatrix used to love to escape and RUN...FAST....it was a common sight in Hardin to see her streaking through the neighborhood with 4 or 5 children chasing her. Again, with her eyesight failing and her hips giving her trouble, she's not made many breaks for it of late.
The CO air seems to have done her good. The past few days she has tried to nonchalantly saunter away from us....we simply walk around and head her off.
Bea's always had a few quirks....she would NOT let us take a photo of her. Even now that she's been blind she'd uncannily turn her head right as we clicked. This accounts for so many profile photos of Beatrix on the blog. She also wouldn't let us watch her eat.
Recent Attempts at photos....that sort of show her face
Over the years we've all taken turns being Bea's main caretaker. She's been with us through career changes, family additions, deaths in the family, Texas move, Alaska move, deployments....and we agonized over what to do when we received orders to Japan. She wouldn't receive a certificate of health. We doubted she'd survive the flight. We didn't want to put her in quarantine or have her put down.
Our dear camping, college buddies, the Bowers Family, contacted us and suggested they dog sit for three years for us. We all knew that Bea would most likely not survive three years...but they wanted to love her for us. They remembered her from camping trips etc. We made plans to drop Beatrix off in ID.
Yesterday, in the hubbub of setting up camp, Beatrix suffered a terrible accident. I won't share great details as they are painful and we are raw. All of us have "why didn't we?," "What could we have done?", "why" questions. Our dear friend died. The little ones did not see the accident nor her injuries. Mike and Jared did and could use your prayers. This is quite a blow as we are already emotionally fragile. Several have mentioned they simply want to be in Japan and be through with all the goodbyes. We were blessed that a lady who witnessed the accident is the mother of a Vet. She called and the Vet daughter discussed with Mike Beatrix's injuries. Beatrix was not going to make it. Mike stopped a policeman and asked him where the nearest vet was. As they talked, and Jared sat with Bea, she died.
We are all heartbroken to have lost her in this way. We are sad that she is gone. We love her like a part of our family. We wish she had simply died of old age and no accident had been involved. OTOH, we all suspected she would not take being left (abandoned from her perspective) at Bowers well....and that they would have to call us with news shortly after we left her. This is a clean goodbye...but a very painful one as well.
We are in Colorado Springs. Earl, Mike's brother, offered to bury her in the meadow behind his house. His mother's ashes and their old dog are also buried there. He dug the start of a grave with his bulldozer and moved several big rocks from Westcliffe out for us to use....then he left us alone. We buried our friend. This is Stacia's first experience with death. She kept trying to snap her fingers and make "Bea come alive". She is currently telling us that Beatrix is "God's Dog" and that God needs to send us another dog for our trip. Zander is telling us it's a "cruel world out there".
Mike and Jared lower Beatrix into her grave.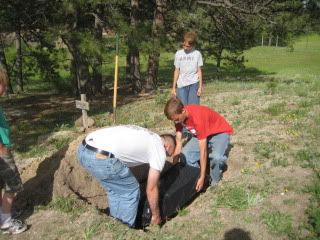 Earl explained that the Apache's put rocks in their graves. He had these rocks from Westcliffe and we all put one or two in the grave. Yes, we had a ceremony.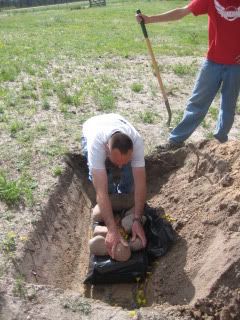 Earl will make a marker for the grave. It is really a gorgeous setting.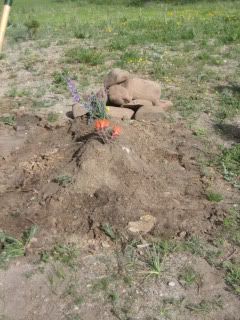 Even travelling, Beatrix is a huge part of our routines. It was strange this a.m. not to let her out first thing, have her sit on my feet while I read the word, have her under my feet as I attempted to roust the rest of the crew. We'll miss Beatrix.
Please do pray for us. I wasn't going to write this post....because it does seem the blog has been sad lately...but as Mike says this blog is a family history...and Beatrix is an important part of our family history. I needed to share her passing. I also covet your prayers as several in our family are feeling fairly fragile and wondering what could possibly be next.
We ARE taking comfort in knowing WHERE she is buried and in having been here with her at the end. As Josiah said, "I could write a country song about this week." ::sigh:: ::snort::

Choosing Joy!
©2009 D.R.G.

~ Coram Deo ~
Living all of life before the face of God...