It didn't take long to notices that we were in for a new adventure when we arrived at Grape Creek RV Park, behind Westcliffe, CO. An Amish group came out of a cabin. Not a big surprise. There is an Amish farm/community in Westcliffe. They DO have warning signs on the hwy....you know horse and buggy warnings.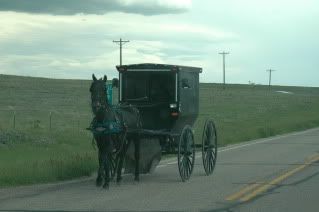 BUT...this was different....there were VANS of Amish, BUGGIES of Amish...Amish in the spot next to us and then that night.....the filled the meadow behind us with tents of Amish. What a great way for God to give us an adventure adjusting to a culture different than ours. ::snort::
We discovered that these were groups from MO and WI in town for two weddings. Their leader decided they could use the washers and dryers....I was reading the Word when I realized that they were having quite a bit of trouble. I was trying to disappear as I sensed disapproval from one lady....I was wearing plaid pj's and had painted nails...well YOU KNOW....but they needed my help. They were sure the dryer was broken. They kept opening it to see if things were dry every minute or so, and then feeding it more quarters because it wouldn't work. I didn't catch what was happening...until one showed up with a tool box. THEN I realized with all the opening they weren't pushing the "start" button when they shut the door. I demonstrated.....a group of about 20 came to open the door and have me demonstarte again. They liked me.
Meanwhile they LOVED Mike. He's great at talking with anyone, anywhere. I'm shy and have to push myself. Mike really liked that their youth could DISCUSS just about anything with him.....and they loved it when they realized that our kids were homeschooled and had never been to "government school."
They went hiking...we went hiking.
They got married....and they set up a honeymoon tent right behind our trailer...and all cleared out for the afternoon.....and I won't say much more, but I will say it was HILARIOUS....even when we had to answer questions about out of the ordinary conduct to our younger ones.
They all came back early evening.....and while walking....one tripped over a water main or some such thing..and the entire camp lost water. ::snort:: The best part was that they loved to tell us the story of the one who tripped and the water "geysed" and got him all wet...in very private areas. Poor thing.....I can relate. ::snort::
I took the girls up at about 10:00 p.m. for a final potty break. Two went into stalls. I took Stacia around to wash her face and discovered our young Amish newlyweds. ::snort:: ::gasp:: We heard great laughter and Nolan told me later he thought, "oh oh," when the young man came racing out of the women's bathroom. Thus ends my retelling of our Amish Adventure. We LOVED the chance to converse and share a couple of nights and a day with them.
We spent the afternoon hiking up in the Sangre de Cristo mountains. GORGEOUS! I love this area. Jared wanted to come here, and I'm glad he suggested it. He DID inform us that this is nice, but he prefers West TX. It seems he likes the sound of wind whistling through the Cactus more than wind whistling through the Alpine.
Early this a.m. we heard a tractor arrive to haul off a trailer the Amish group had borrowed. They hooked up...but forgot to put the slide out in or pull the jacks up....Mike ran out to help them.
Here are some photos....we're missing our 3 adult children.....but we're having fun on our way to the West Coast.
Mike, Jared, Arielle, Nolan, Zander and Beatrix began at one end of the trail. Krista, Stacia and I drove to the head, parked and headed out to meet them. Along the way they crossed swollen creeks that were fast and big...at this one they placed branches over the water to create a make-shift bridge.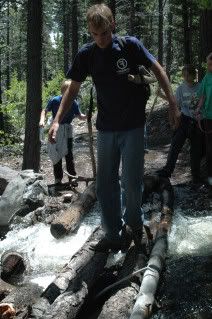 They removed Beatrix's leash so she could swim across. She took one look, turned around and started back down the trail. ::snort:: Mike carried her across. Yep, showing her age.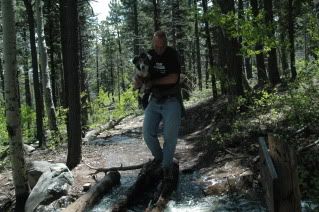 Meanwhile we enjoyed the views...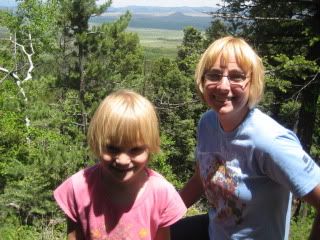 Our two groups met at a great creek/bridge....about a mile from the van.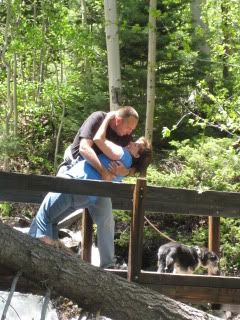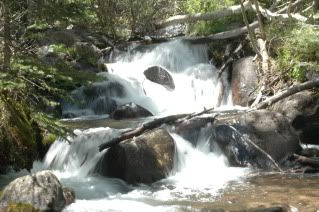 Cy and Jamin, along the trail, Stacia kept wanting to ride. I realized that this is her first walk on your own two feet hike..... but when we met up with the others Dad obliged. ::snort::
We were blessed to be given the SAME campsite we had last summer on our family vacation. We did NOT ask for this and they do NOT have a computer system. A hug from God.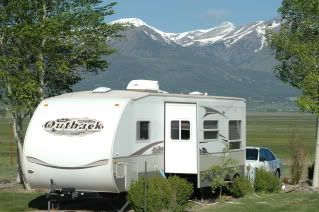 See, a post with no tears. Warning that Day 4 is not so carefree.
Choosing Joy!
©2009 D.R.G.

~ Coram Deo ~
Living all of life before the face of God...