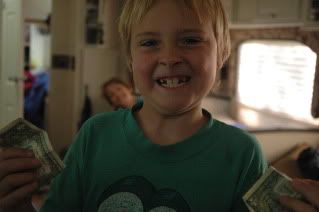 Years ago a gentleman from church, Joe Hollingsworth, gave every child a dollar when they brought him a tooth that they'd lost at church. Our girls were sad to be moving away from the church right when they were starting to be able to take advantage of this....so we've offered the same deal all these years.
Yesterday, Zander lost a tooth.
A few moments ago, Zander lost a tooth.
"I think I know how I'm going to make money, Mom!"
Choosing Joy!
©2009 D.R.G.
~ Coram Deo ~
Living all of life before the face of God...