Stacia is full of quips tonight.
She is NOT going to Japan. She's going to a ball instead.
I told her a bedtime story and it ended up making everyone cry. I don't think I have the storytelling knack.
Mike came in to pray...and I don't think that calmed anyone down much.
She has just told us, "my pillow has Arielle on it," as she pulled it out from under Arielle's sleeping head.
We had a great meal with my cousins. My uncle, who I've not seen for about 16 years, surprised us. I must admit, I thought of Aunt Gin a lot today and was sad that she wasn't here. This is the first time I've been with her children since she passed away.
We spent lots of time in the pool, playing chess, practicing for the bullet train on the "evalators" (that is not a misspelling....it's a phonetic spelling of Stacia's pronunciation), eating, packing, checking lists....
This photo is for Deja and Emma. We found a great little shirt at Target in Seattle to go over Arielle's suit and she is satisfied.....at last. Bre knows JUST what to buy for us if we need another.....because Bre has one. ::snort:: It matches the swim shorts that she and Krista bought weeks ago.



Jared and Josiah try their hand at raquet ball.



Grandma T teaches Zander how to really splash...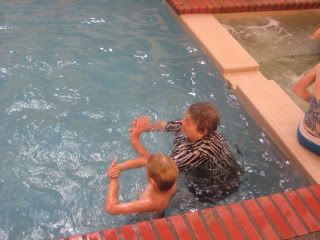 Jamin teaches Stacia how to swim.



She's got the jumping down.



There was opportunity for Zander to try out his new splashing skills.



Grandma T teaches Stacia how to swim...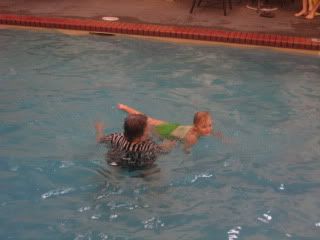 We're all bracing up for tomorrow's goodbyes and adventures. Thanks for your prayers.
Choosing Joy!
©2009 D.R.G.

~ Coram Deo ~
Living all of life before the face of God...