Friday Nights
We got into the habit years ago, when the older set were young, of letting the children have a sleep over every Friday night in the family room. This was fun for them and special - especially as we don't do sleep overs. ::snort::
Whe we moved to this house.....the practice stopped as we didn't have a family room...the girls left home...the older two boys work late and long and want to sleep comfortable on Friday night...but the younger ones miss it.
I got home last night at 12:30 a.m. and found this in the living room.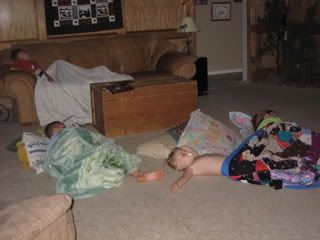 RESOLVED: I'll quit fussing about the cluttered living room and my loss of early Saturday solitary study time...and help them make this a memory. They need it.
It's now after 10:00 p.m. Mike still isn't home. The Hank the Cowdog/Adventures in Odyssey controversy has been mediated....I'm going to go read...either Escape or Commentaries. We shall see.