Some Pool Shots from the Day....
I finished 3 pages for the scrapbook from yesterday and today - all pool shots. ::snort::
The first page talks about Stacia's experience at the end of last swimming season. I share how yesterday she was very timid in the pool. Today she was still timid but would paddle around the pool, as long as someone was nearby.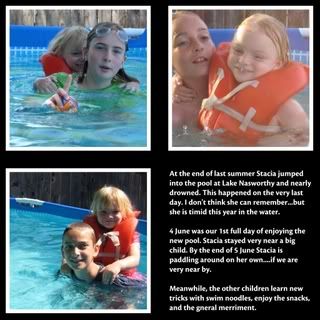 Page 2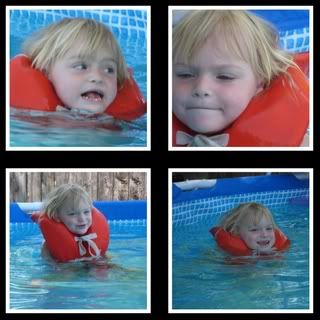 Page 3 - has 9 photos....they don't show real big on the screen. I keep wondering if they'll be bigger on a 12x12 page. I really need to print some of these pages out. I do have two more local leads for printing....anyway.....here are a few of my favorite photos from the third page:
I'm so thankful for Mike's allowing me to stay home and have time to PLAY with the children while they are young. It truly is a precious time of their life...and I cringe when I think of how I wished it away as a much younger mom. ::sigh:: I play more these days.
Nolan and Zander with their new swim noodles....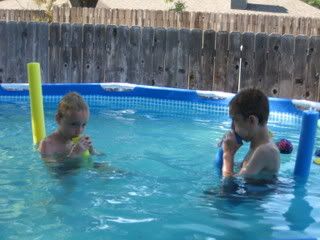 It didn't take long for them to discover that you can shoot water at each other with them....I made them shoot out the back for the photo.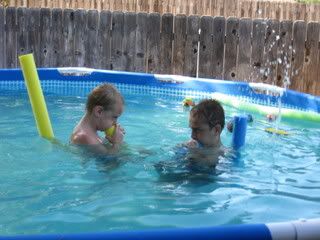 A man has his priorities!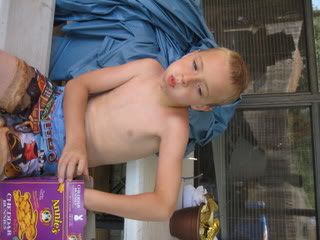 Now, I must decide if I want to read or do a couple of traditional naked album pages....hmmm....tough call....not sure.....I do have to get up early and make it to the gym before produce......hmmm.....