Re- Entry is TOUGH!
I always wonder after being gone for a bit if the change in pace is worth the craziness of catching up when I get back home. LOL I've not had time to send a "real" blog entry since I've been back.
Sunday was FULL and accomplished on little sleep as the plane was late on Saturday night. On top of the services and fellowships - we had a "little" house project pop up.


Monday, the majority of my focus was in preparing for our evening United co-op. I typed up a split's list and answered questions about totals and orders and such. I brainstormed a new "system" for sorting - it WORKED! LOL
Jared, the littles and I met the truck at 4:00. Heather and Niki were a great help sorting "stuff". Brian and Kim, members, blessed us GREATLY by bringing dinner for our family when they picked up their groceries. She'd noted when picking up late one month that I was starting supper at 8:30 p.m. ::snort:: We've decided next month we'll ask Dillon (a friend of Jared's whose family is in co-op) to join us to meet the truck. Our order continues to grow and my snarky wrists protested lifting.
Josiah came over and took Jared to his apartment with a couple of local friends. That's a blast for Jared.
Stacia was CONVINCED that Beatrix was COLD - it's 104* around here.
Jared went on a campaign to kill ants and found this guy when doing yardwork - these endeavors provided Zander and Nolan an hour or two of fascination.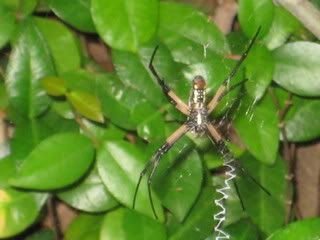 Tuesday I made a LIST and accomplished about 50% on the list. That's a good start.
I made it to the gym - two days in a row. I can get back into a routine that includes the gym AND tryst time with Jesus. It's a challenge to do both during busy weeks and so I let the gym slide the past three weeks. This is a busy week and I'm determined to find time for both!
I was the acting recording secretary for the PWOC regional board meeting this weekend. I typed up notes and sent them on for review. I was asked to compile a roster with the contact info for all the local boards which was collected at Leadership Weekend. I got that done. I determined I must find a book on Excel for dummies. Thanks, Diane for setting up the format for me and entering many of the forms during LW. That helped.
I depostied all the United money from Monday night so the check written at pick up won't BoUnCe!
I began figuring out orders for Produce co-op on Friday.
I posted a book review that had to be done this week.
I began to organize a girl's night out for Chaplain's Wives. This is another one of "my lanes".
I had prayed Monday about finding time for "play dates" for the littles. It seems that we finished school, summer arrived, and I've been BUSY with moving Josiah, preparing for trips, completing tasks....and I need to be sure the youngers aren't shorted. They need time to play. I know God prompted that thought. Monday night Deja suggested a play date next week. Tuesday, Tammy L (new chaplain's wife) called and asked if I could watch her four while they ran to sign papers at the bank. The kids loved playing. I made slushies, Deja!
At one point I thought putting Emily in the sling would be a good idea. She wasn't totally at ease...and Stacia was really uneasy about this baby in "her" sling. (Yes, Stacia always wears this dress backwards and I don't make an issue of it...unless we are leaving the house...then I sometimes make an issue of it. ::snort::)
I ran to the commissary. This is my SECOND trip for produce this week. Milk was cheaper than Sam's where it has gone up to $4.04 a gal. I now have this LITTLE car and so gas expenditure isn't quite the deterrent it has been. I've had car adventures. For instance - tires squeal in this little car, and I'm MUCH smaller on the road - but faster, I couldn't get the windows down at the front gate (had hit some button)....all in all very fun.
A friend had asked me to do a few word studies for her. She wanted to see if I came up with the same things she was sensing in her quiet time and in her readings online. I was happy to do this. It was number 1 on my list and got done at 7 p.m. ::snort:: I am impressed, friend, at your heart to seek God's will and not simply your own or what you've been taught....Paul commended the Bereans - I commend you!
During the day there were numerous opportunities to lay aside the list and minister to those who called or dropped by. I'm learning to find a balance between dropping it all and staying on task. I think. ::snort::
It was 11:00 p.m. when I turned off the computer. Mike got a command post call that kept him awake. This kept me awake. I'm going to make that list again today and then PRIORITIZE it so that I can maybe get the rest of it done and have more time to PLAY. I must PLAY!
We learned this weekend that we should alternate things that "energize" us with the things we don't enjoy doing. SO....I began today with updating the blog as it DRAINS me to know that family are wondering WHY I've not updated and it ENERGIZES me to communicate with family and friends....AND I now realize I got a lot done the last two weeks...regardless of the length of the remaining list. ::snort::
©2008 D.R.G.