Kim, Tammy, Stephanie...anyone?
We are ranging off the beaten path. It's an adventure not to have a clue what the road signs say, the building signs etc. BUT most smile and communicate that they wish they understood us. ::snort:: We do the same back.....saying "I am American" and "Do you speak Japanese?" hasn't proven helpful. "Toire wa doko desu ka?" has been helpful. I was all prepared late last night with, "Summie mysin, Misawa Air Base wa doko desu ka?" but we couldnt' find a single person on the road or along the roadside to ASK. LOL
These are signs we really wish we could have read. Is this Kanji or Katakana? We think most the signs are in Kanji, so this may be what we need to learn. We do recognize Misawa and Shiriya now. ::snort::
I REALLY want to know what THIS says...don't flush the rubber duckie?



It would have proven helpful to now what this said



I'm assuming this is warning you not to get in the ocean?



This must promise a wonderful onsen - any idea what the name of it would be?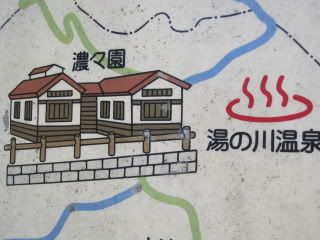 Next adventure - we'll pack some food...guess what when you get outside of Misawa there aren't ramen stands, sushi spots and Circle K's on every corner....but there IS a never-ending supply of Coke vending machines. ::snort::
Choosing Joy!
©2009 D.R.G.
~ Coram Deo ~
Living all of life before the face of God...