"Birthday Celebration"....
Our goal was to arrive in Japan by Stacia's birthday and we did. Stacia has the honor of being our first birthday in Japan (though not the first birthday celebrated in TLFs).
We knew tomorrow would be busy so we went ahead and celebrated this evening. Here are some photos.... Mom, we've not received your package but it is sure to arrive soon. Just FYI for all....you MUST use the USPS to use an APO address. If you want to mail to us from outside America we have a Japanese address we can give you. You CANNOT use Fed Ex, UPS etc to mail to an APO (we know this as GAFB mailed our medical records by Fed X and they are stuck in Aomori). I'm hearing over and over to mail things priority or air mail but not surface mail or media. That's all I know at this point in time (and Mom I know you mailed priority - it will be here soon....we didn't check mail today so it may be there now. We'll check in the a.m.)
Stacia settled for this cake with the promise that I'll make the Pink Princess Cake when we have a home. Note the Parrot hat standing in for the Pig Hat - which is in our hold baggage...who would have guessed we'd be in TLF's this late. LOL



She didn't seem real thrilled with the Princess Kitty chopsticks from Y100 Store



She loved the slippers and red glasses.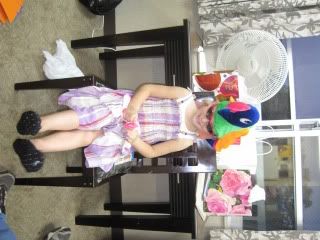 She loves the pink sandals and can walk quite well in them

We're both excited to find reasonably priced dresses for Stacia!

Choosing Joy!
©2009 D.R.G.

~ Coram Deo ~
Living all of life before the face of God...