Nolan with Miss Kristin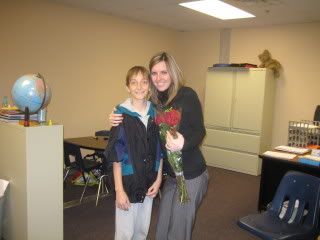 9:15 a.m. found me at Lamar Elementary meeting with 3 ladies about Nolan's Speech. Some of you will remember that we thought last year that he was released from speech. At the testing to be released they decided not to release him. They also told me he was "below standard" in vocabulary. Today she released him. She also said they had retested his vocabulary skills. I TOLD them that he didn't know what a "record" was....but he knew what a GPS or Weather Station was. She said normal range on the test is 85 - 115. Last year he was 83. This year he was 110. I told her that I was fairly certain it was the fact that last year he didn't know any of them and it was a new setting....now he's received speech at the school for a year and knew those giving the test. They tend to think it has more to do with intensive vocab work I did with him this year...um...we didn't. ::snort::

Seven years of speech - over. Just like that. Nolan didn't even go to speech today. We went and bought roses and took them back to Miss Kristin during his time so that he would have a chance to say goodbye. She cried. I cried. Nolan didn't. ::snort::
We celebrate everything in our family. Nolan is considering what he wants for his real speech dismissal celebration. We had a celebration last year...but now that it's really final....
Mike came home and got the newly signed form whatever to turn in to the Air Force. It now says "is not receiving services".

Choosing Joy!
©2009 D.R.G.